Lasagna Recipe with 2 Variants
Author:
Thomas Sixt is a chef, food photographer, cookbook author and blogger.
Here he shares recipes, answers cooking questions and helps with cooking.
Here I show you my lasagna recipe. Buona Sera, Signorina, Buonasera… today is cooked Italian. Original pasta casserole alla Bolognese with two delicious sauces without much effort….
You want to cook for more than one person? Are you cooking casserole for colleagues or for your new Tinder acquaintance? Huh, that can get exciting 😉 I can put your mind at ease already….
Thank goodness for the quick vegetarian lasagna, besides the classic preparation with homemade sauces that you can choose according to possible time account and occasion.
Goes great… do not worry, this Kitchenstory will accompany you step by step.
As your trusted chef, I bring great ideas to your kitchen! That makes it easy for you to choose.
Now I wish you a lot of fun while getting hungry, see you later in the kitchen!
1. Recipe Lasagna
Now you are sufficiently informed and can get to shopping.
Wish you a lot of fun in the kitchen.
Feel free to write me a comment, I always find cooking questions exciting and am happy to answer them!
Lasagna
Cooked, photographed and written down by chef Thomas Sixt.
Servings 4
Calories 511
Total Time 80 Min.
Simple instructions for preparing lasagna.
Ingredients
Minced meat sauce

1
tbs
Olive oil
10
g
butter
1
small
onion
1
pc
glove of garlic
1
bunch
Soup vegetables
500
g
minced beef meat

(Leave out for vegetarian )

3
tbs
tomato puree
100
ml
dry red wine
1
can
chopped tomatoes
1/4
tsp
abrasion of lemon
1
tbs
balsamico
1/4
tsp
Salt
5
pinches
black pepper

Béchamel Sauce

1
l
milk
70
g
butter
1
tbs
flour

(I use cornstarch)

50
ml
dry white win
5
pinches
Salt

(I use primal salt)

3
pinches
nutmeg
2
pc
bay leafs
2
corns
Piment
2
tbs
parmesan

Gratinate

200
g
Mozzarella

(I also like Parmesan)
Instruction
Minced Meat Sauce
Prepare sauce
Preheat the oven to 200° C.
Put olive oil and butter in a pan and heat. Peel onions and garlic.
Finely dice the onions and garlic.
Peel and finely dice the soup vegetables.
Fry ingredients
Fry the minced meat in a pan, add the vegetable, garlic and onion cubes and sauté for 10 minutes.
Fry light brown
Roast the minced meat and vegetables with the tomato paste until light brown.
Deglaze
Then optionally deglaze with the red wine and boil down briefly.
Add the tomatoes and bring to the boil.
Seasoning
Flavour the ragout with a little lemon grater, balsamic vinegar, salt, pepper and sugar, simmer gently for at least 15 minutes.
Sauce Béchamel
Cut onions
Cut a medium-sized onion into small cubes.
Sauté ingredients
Heat up the pan, then add the onion cubes, butter, bay leaves and allspice and sauté.
Supplement flour
Sweat the onion cubes until translucent and add the flour.
Sweat the flour briefly.
Deglaze
Add the white wine while stirring and bring to the boil.
Add milk
Add cold milk while stirring constantly and bring to the boil.
Flavour with salt, pepper, nutmeg and cayenne pepper.
Submit the grated cheese to taste later, technically it is now a sauce Mornay.
Check sauce
Put some béchamel sauce on a cold plate and check the binding of the sauce.
Pasta layers
Filling
The filling of the oven dish can begin. Cover the bottom of the casserole dish with béchamel sauce.
Insert pasta plates
Place lasagne plates on the béchamel sauce.
You can easily break the pasta plates, so you can also insert them at the corners to fit.
Pour meat sauce
Add a few spoonfuls of minced meat sauce to the plates.
Continue filling
Pour some spoons of the white sauce on the pasta plates with the minced meat sauce.
Again and again build new layers with noodle plate minced meat sauce-white sauce until the upper edge of the baking dish is reached.
Finish lasagna
Finally, pour the bechamel sauce on the last layer.
Sprinkle with plenty of grated mozzarella so that the casserole is covered.
Bake and serve
Place the casserole in the preheated oven and bake for approx.
40-50 minutes at 175° C until done.
Enjoy your meal!
2. Calories and Nutritional Values at a Glance
3. Discover the right lasagna by occasion!
To make the choice easier, I have prepared a handy overview by event and occasion.
Find what you're looking for quickly here:
| | Pasta Leaves | Sauces | Cheese | Occasion/Atmosphere |
| --- | --- | --- | --- | --- |
| Fast Kitchen | dried or pre-cooked noodle leaves | purchases from the supermarket, skillfully refine | ready-grated mozzarella | dinner fast / If you don't like cooking |
| Gourmet Classic | dried noodle plates | cook sauces yourself according to instructions here | mozzarella or parmesan fresh and finely grated | family meal or meal with friends/joyful cooking |
| Chef Mama Rosa Variation | dried noodle plates or freshly prepared noodle plates | prepare sauces according to instructions here | buffalo mozzarella or matured parmesan cheese | impressive Tinder date/high food feel |
Next, let's take a quick look at the #flashready variant…
I think this can bring joy or be the stimulus to cook yourself. After all, gourmets spare no effort!
4. Prepare Simple Lasagna
Please help yourself to the great range of ready-made sauces on the supermarket shelves.
Alternatively, you can resort to already prepared, homemade and frozen sauces.
Make your own sauces and freeze them, it tastes better than ready-made sauces just in case…

Preparation tip from chef Thomas Sixt
Since I do not know the capacities of your freezer I always assume the worst case: That means yawning emptiness.
4.1 Quick and Easy, my Casserole Tips
The ingredients:
Ragout Bolognese from the jar
Canned tomatoes or fresh tomatoes
Bechamel sauce from the package
Nudelplatten
Cheese
frisches Basilikum oder getrocknete Kräuter, wahlweise Knoblauch
Depending on whether you've been able to earn a white belt or a black belt in the kitchen battle so far, this pasta bake will take you 15-20 minutes to put together.
The Italian Fake Slice is in the oven in 15 minutes and "ready to eat" after 45 minutes!

Chef Thomas Sixt motivates you to bake casserole
Wait a minute, there was one more thing – please think of what's around it. A good craftsman needs his tools:
The tools of the trade:
Casserole dish
Pots for the sauces
Oven
Optional cheese grater if you buy the cheese in one piece
Knife, ladle, cutting board, spatula, dishes and cutlery
Now you're wondering why I mention dishes and cutlery? If you are new to a company and you are making an introductory dinner for colleagues, please check the inventory list in the office kitchen. The casserole is not finger food, after all!
We want to approach the classic preparation method with home-cooked ragout and béchamel sauce next.
5. Lasagna Minced Meat Sauce and White Sauce Make Yourself
5.1 Mince sauce tips with cooking video:
For the classic Italian mom cucina, you definitely need two sauces. There's no way around it.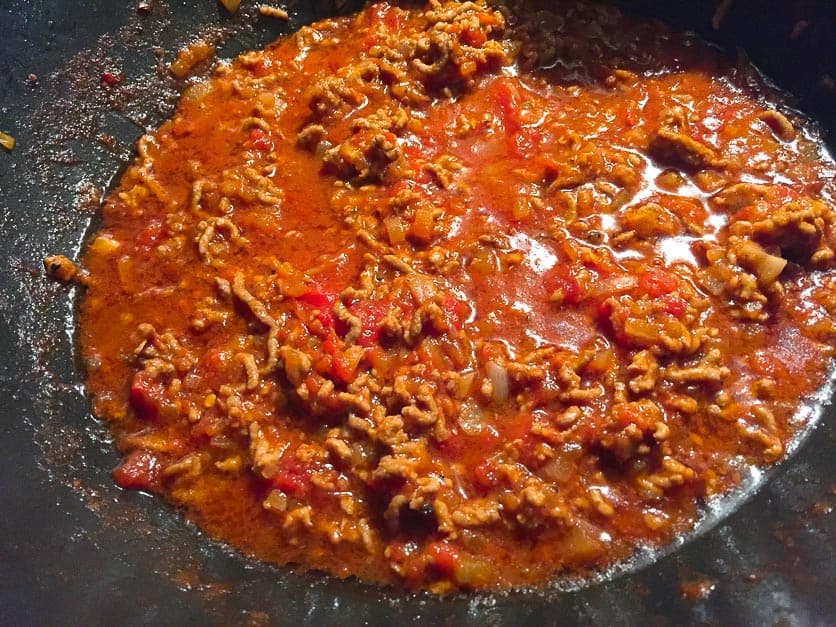 I'd like to show you some great tips anyway, and at the same time refresh your knowledge and give you some good suggestions.
For that, I've included the cooking video of the preparation for you here. Look over my shoulders while cooking, the video only take 15 minutes. Enjoy!
5.2 Béchamel Sauce Tips
The classic béchamel sauce consists of onions or shallots (finer in flavor), bay leaf and peppercorns, butter, flour, dry white wine, milk, salt, pepper and nutmeg.
I'll show you how to make the sauce below with lots of photos.
Since I am the cook of your confidence, I have one more tip… this you will learn in the post on the Bechamel sauce.
Ahead already a hint 🙂 for you I simplify the preparation of the sauce and show a great trick that also works with wonder pots easiest.
It saves time and last but not least this light sauce is gluten free!
The step by step instructions for Béchamel Sauce you can already find elsewhere here on the blog.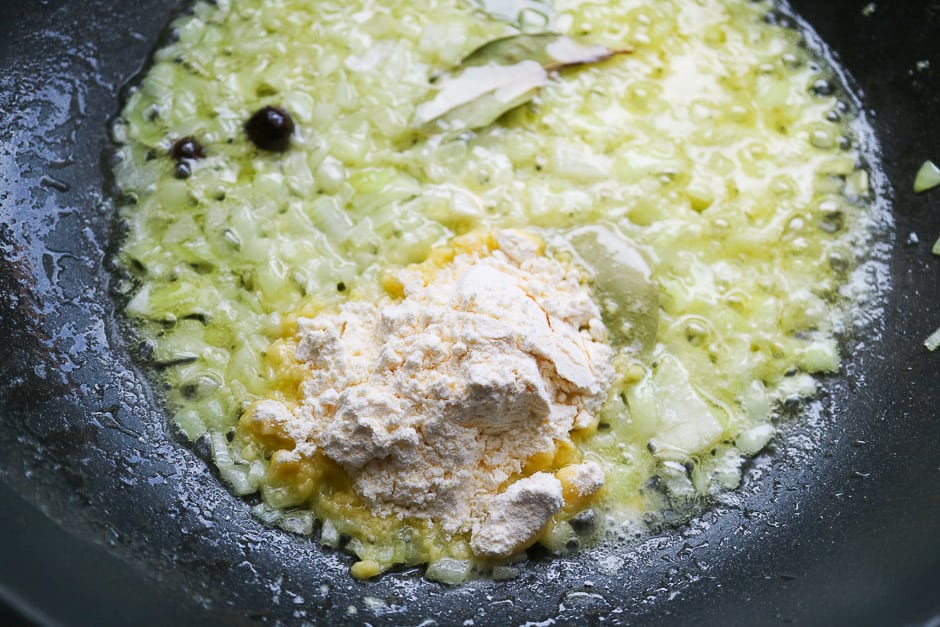 6. There is no such thing as the right baking time for lasagna!
The baking time depends on several factors:
Many stoves do not reach the set temperature, so it (usually) takes longer.
Depending on the number of pasta layers, your casserole will be higher or lower, and the cooking time will change accordingly.
If you put the sauces in hot and cook the casserole immediately, it will be faster.
If you pre-cook the pasta plates, the cooking time is reduced.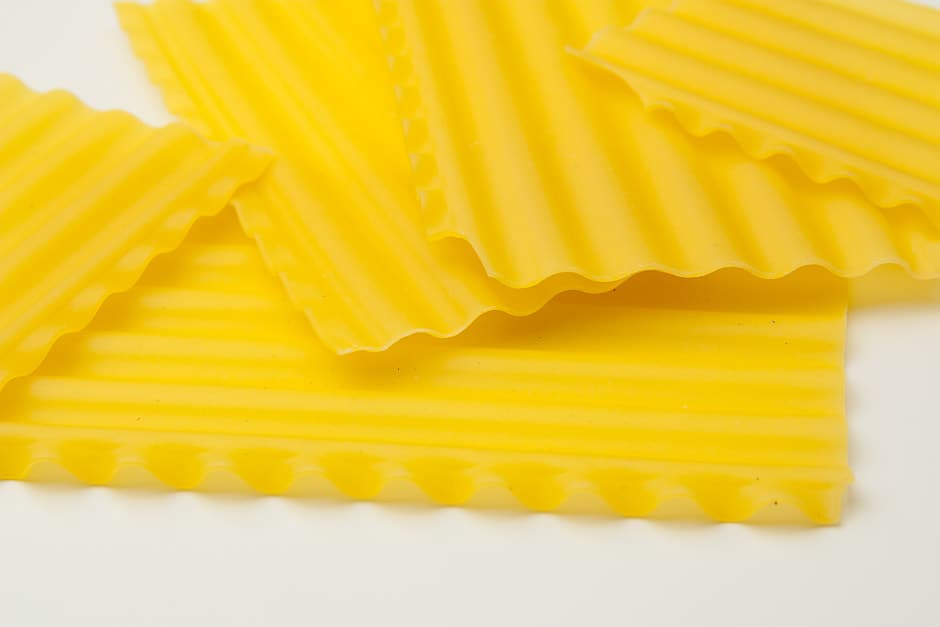 When is the pasta in the casserole cooked? Pierce it with a wooden skewer… when it's easy it's time to eat.

Chef Thomas Sixt tells you how you can tell when the lasagna is ready.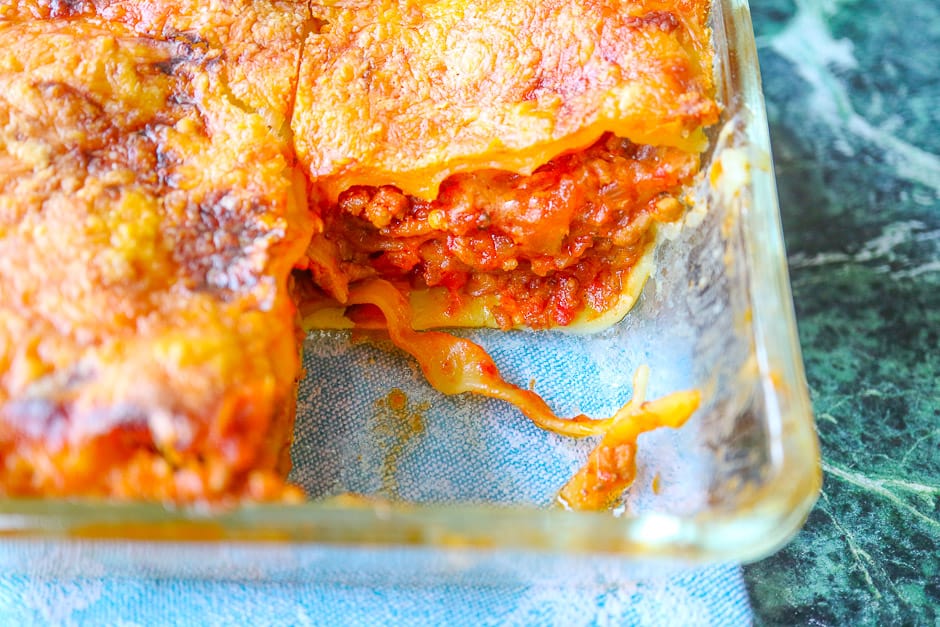 7. Here you can find a Vegetarian Version
Mhhh, veggie casserole tastes super yummy…above I already linked you a quick and tomatoey version.
Here follows the announcement for another recipe!
8. More Ideas for Casserole
Comments, Cooking Questions and Answers
Below you can write to me directly.
Please don't forget the star rating on the recipe, 5 stars means you liked it!