Bratwurst Fry Made Simple Recipe
Author:
Thomas Sixt is a chef, food photographer, cookbook author and blogger.
Here he shares recipes, answers cooking questions and helps with cooking.
How to fry Bratwurst we look a little closer in this post.
As a recipe suggestion I have prepared for you bratwurst with mashed potatoes.
Are there any special cooking techniques and what to consider? After all, we want to bring a juicy and deliciously round fried sausage on the plate and enjoy.
So that your sausage is not all alone on the plate, I have prepared a fresh mashed potatoes for us.
The following instructions help with any kind of sausage roast:
Raw and cooked, Nuremberg, Thuringian, Franconian, Palatinate, Silesian, Westphalian, oh it's wonderful, in German lands we have so many delicious sausages to choose from.
Have fun and good luck!
1. Recipe Bratwurst with Mashed Potatoes
Fried sausage with mashed potatoes
Guidance from chef Thomas Sixt
Servings 2
Calories 579
Total Time 35 Min.
I show you how to fry sausages in this recipe with step by step photos.
Ingredients
Mashed potatoes

400
g
floury potatoes
100
ml
milk
primal salt
black ground pepper
grated nutmeg

Bratwürste

2
pc
Bavarian veal sausage

(Raw Veal Sausage)

1
EL
sun flower oil

Decoration and accompaniment

some
Parsley
Dijon mustard
Ketchup
Instruction
Prepare garnish
Please take care of the preparation of the side dish first.
I made a fresh mashed potato:
–> wash and peel floury potatoes
–> Cut potatoes evenly into small pieces
–> Boil potato pieces covered with salted water
–> Drain soft boiled potatoes
–> Season with salt, pepper, nutmeg
–> Chop with a mixer, whisk
–> Whisk with the milk
–> Season to taste and keep warm until ready to serve.
The step by step photo instructions for mashed potatoes gives even more exact information.
Prepare sausages
Unwrap bratwursts and dry them.
I used raw veal bratwurst.
The other known bratwurst varieties I prepare exactly the same.
Prepare pan
Heat the pan. You can use a coated pan, an iron pan or a copper pan.
Supplement oil
Add the oil to the pan.
The right heat is reached when the oil casts waves.
Alternatively, you can hold a wooden spoon handle in the oil. When it sizzles, the right temperature has been reached.
Pickle sausages
Place the dry-aged sausages in the pan and brown.
Reduce the heat to 2/3 of the stove top power.
Roast sausages
Turn the dry sausages and fry them evenly on all sides for 10-12 minutes.
Arrange and serve
Serve the sausages. I like to serve them with ketchup and Dijon mustard.
Ideas and tips for the side dishes can be found under the recipe.
Bon appetite and good luck!
Fat for frying Tip:
Which fat do you use for frying?
Only heat-resistant fats and oils are suitable for frying sausages:
Palmin and Ceres, sunflower oil or canola oil.
Animal-free tips:
For a vegan dish, prepare the mashed potatoes with soy cream.
Vegan bratwursts come in many varieties.
Sauces Tip:
Use a veal stock as a base.
Boil down (reduce) the veal stock.
Blend (assemble) with cold butter.
Serve with sausage and mashed potatoes.
Optionally you can prepare sausage with onion sauce:
–> Finish the veal stock and keep warm.
–> Fry onion cubes or onion strips in oil until light brown.
–> Deglaze with the veal stock and let stand for 5 minutes.
–> Freshly cut parsley, some marjoram or thyme harmonize with it.
Garnish and cold sauce:
I like to serve a selection of mustard and ketchup with the sausages:
Dijon mustard, sweet Bavarian mustard, grainy French mustard or medium hot mustard are a good idea.
2. Calories and Nutritional Values
3. Sides to the Bratwurst
A fresh roll or bun, pretzel cookies and even brioche are a good idea. More side dish ideas, filling side dishes and side salads can be found below: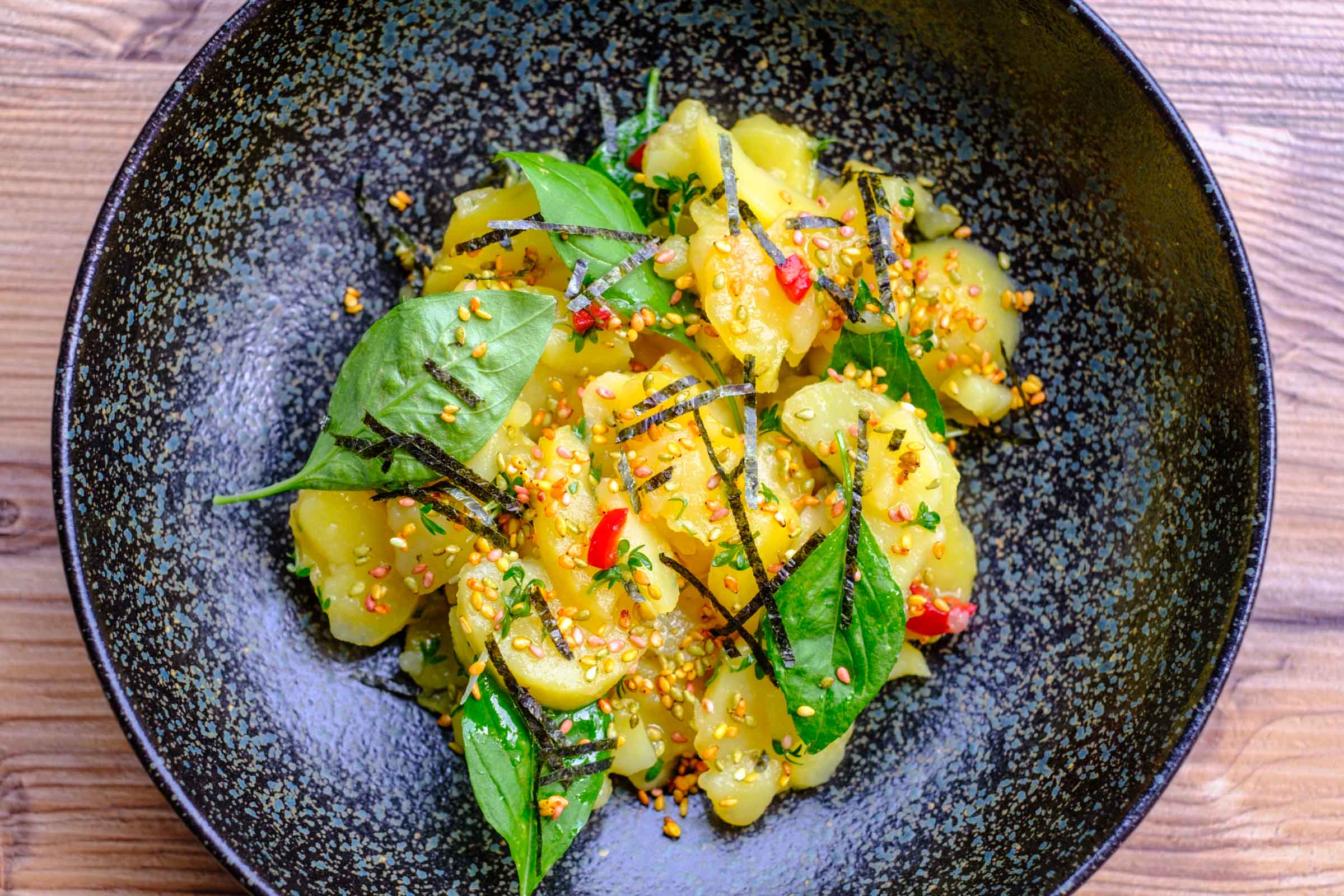 4. Is Frying Sausage in the Oven a Good Idea?
Honestly, for the preparation of the sausage in the oven there is only one good method:
-> Preheat oven 220°C.
-> Oil roasting pan or baking tray.
-> Put the sausages on it and marinate in the oil.
-> Put roaster or baking tray into the oven.
-> Use the middle rack.
-> You can turn the sausages once.
-> Depending on the oven and the thickness of the sausage, the preparation time is about 15-20 minutes.
I prefer to fry my sausages properly:
Generally, bratwursts get better when roasted in a pan or on the grill.
Contact heat makes the sausages brown nicely. Taste is created in the process.
Do not cook sausage in the oven too long. The sausages dry out. Please add enough oil.

Bratwurst in the oven Preparation tip from chef Thomas Sixt
Next, let's take a look at the topic of grilling bratwurst….
5. Bratwurst Grilling Made Easy
For grilling the sausages in the garden, I have the following tips for you:
-> Put the sausages dry and do not oil them.
-> The charcoal should reach a white glow before placing the sausages.
-> Clean the grill grate well beforehand, rub it with the wire brush and then heat it.
-> Direct heat just above the embers is often too hot for the sausages.
-> Grill the sausages indirectly and place them next to the main heat source.
-> Pay attention to the color, small sausages cook faster.
-> Be careful when putting the lid on, the heat development is very high.

For the gas grill, please use a level in the range of 200°C and below. The advantage of the gas grill is obvious: you can adjust and regulate the temperature very quickly as needed.
6. Bratwurst Fry Gallery
7. More Recipes Ideas
Comments, Cooking Questions and Answers
Below you can write to me directly.
Please don't forget the star rating on the recipe, 5 stars means you liked it!