Balsamic Vinegar
Author:
Thomas Sixt is a chef, food photographer, cookbook author and blogger.
Here he shares recipes, answers cooking questions and helps with cooking.
The words "Aceto Balsamico Tradizionale" immediately make gourmets and connoisseurs smile.
Therefore, I have now added my balsamico recipe here.
When talking about the fine vinegar, shining eyes are not uncommon.
In the original, it is an elixir of life:
Those who know the spirit from the bottle have already experienced bliss and a piece of paradise on the palate.
While pizza and pasta, the Italian cuisine itself, have made a gigantic triumphant advance in Germany, the original Aceto Balsamico is still in its infancy.
The vinegar is to blame! We use it in the German kitchen mainly as an ingredient for salad dressing, some products even for cleaning.
The organic apple cider vinegar has just made it to the apple cider vinegar drink, while it tastes pathetically sour even with lots of honey.
What we are offered in the supermarket and even in the delicatessen is, unfortunately, rarely the pinnacle of craftsmanship.
The industry spoils us with all kinds of cheap offcuts that spoil even children's appetite for salad.
This article is your wake-up call, without exaggeration you will experience here the highest culinary consecration.
Read on, you will become part of a gourmet circle that enjoys, celebrates and ritually celebrates vinegar!
This article provides information about the original noble vinegar from Italy, the black gold of Italy: the Aceto Balsamico Tradizionale.
Learn everything you always wanted to know and many tips for purchase and use in the kitchen.
1. Recipe Balsamic Vinegar
Here follows the step by step instructions for making vinegar yourself.
Questions and nice kitchen gossip you can send me at the end of the page via the comment function.
Balsamic Vinegar
Prepared, documented and photographed by chef Thomas Sixt
Servings 25
Calories 37
Total Time 660 Min.
Simple instructions for preparing genuine balsamic vinegar yourself.
Ingredients
20
Liter
Grape must
1
Liter
balsamico

(10 years old)

1
Liter
dry white win

(Italian white wine)
Instruction
Prepare
Boil down grape must to 9 liters, let cool.
Stir in the balsamic vinegar and wine and pour into a 20-liter wooden barrel in the cellar or attic.
Cover the barrel, the mixture must be allowed to breathe.
Now let it mature for 20 years.
Then enjoy, I wish a good appetite!
2. Calories And Nutritional Values
You can find the balsamic calories in the table below.
Even simpler: 100 ml Aceto Balsamico Tradizionale contain about 90 calories.
3. Balsamic Vinegar Shopping Consultant
As a chef, I thought about the topic of balsamic vinegar and did an extensive tasting with Uwe from the website Balsamico.Shop.
When tasting, I had a lot of aha experiences, because Uwe has really special varieties on offer.
He maintains direct contacts in the region and has even managed to get Aceto Balsamico Tradizionale (DOP) sold in a new packaging size.
The balsam extract was previously available only in bottles of 100 ml.
Recently, the vinegar from the Reggio Emilia region is available in a mini bottle of 10 ml.
With 10 ml of the highest quality balsamic vinegar you can easily serve 1 kg of fresh strawberries.
Alternatively, you can refine a carpaccio with truffles for 8 people with it.
After tasting, trying a lot and after a few weeks of cooking, we put together a balsamic cooking box.
The gourmet ingredient box contains five selected vinegar specialties, suitable for a variety of dishes, which I present to you below:
Taste miracle:
Looking for a kick for the evening for two or the perfect dinner?
Then this noble balsamic vinegar is just right.
The classic strawberries or/and vanilla ice cream with balsamic will be remembered by your guests.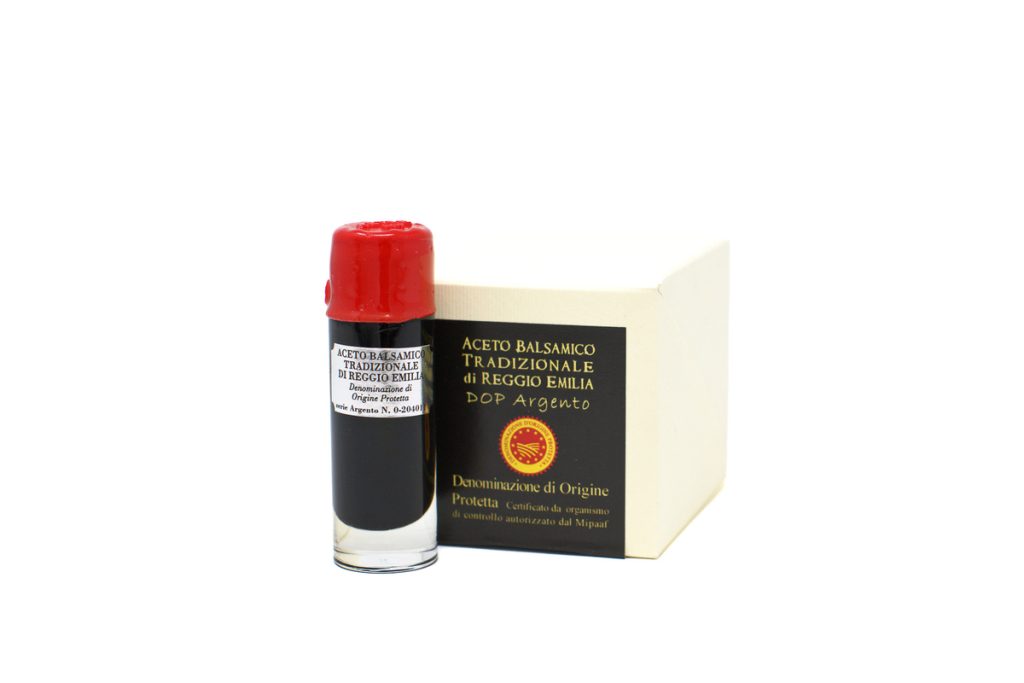 Taste sensation:
You're really serious about the balsamic?
Then you can refine your dishes drop by drop from the 100 ml bottle.
It goes well with desserts, completes risotto and pasta, it gives the absolute finish to fine sauces.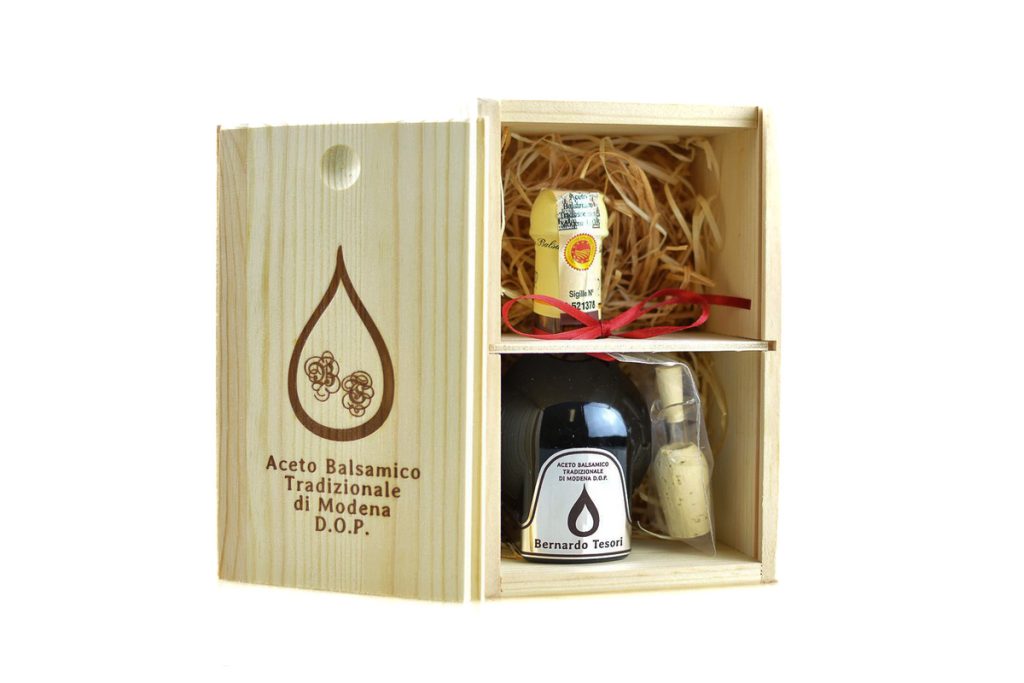 Salad Happiness:
Regular vinegar is too acidic for you and you tend to cream dressing?
Then this balsamic vinegar with syrupy consistency is your new salad companion.
Combine this vinegar with olive oil to traditional leaf salads with fish and seafood.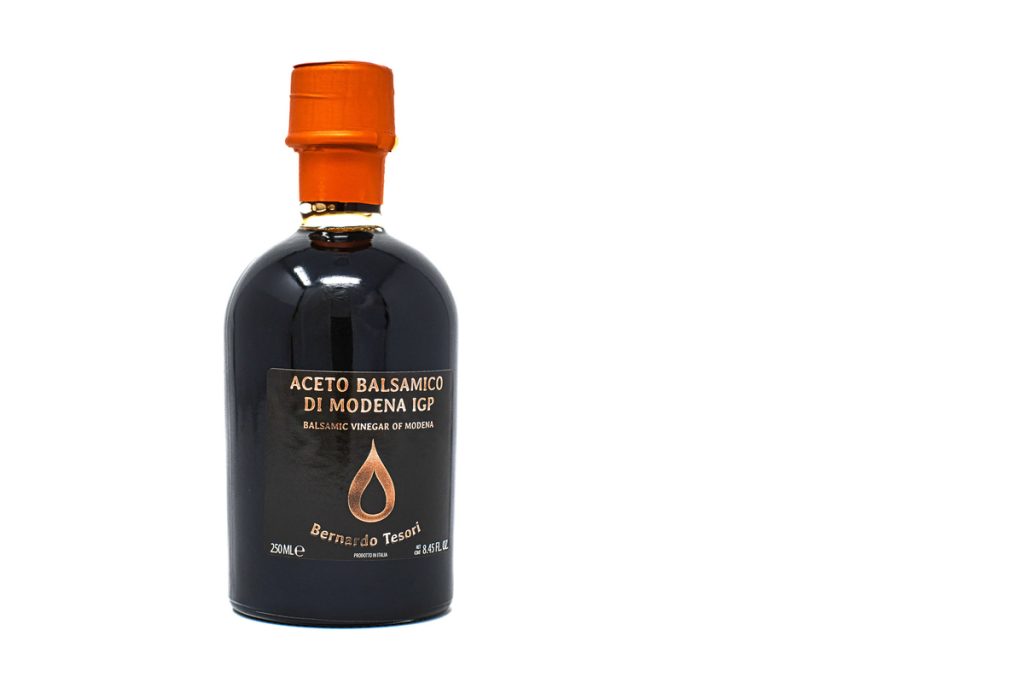 Daily Palate Happiness:
The name balsamic vinegar dressing says it all! This vinegar will stay in your memory 🙂
I like things mild and flavorful, so this vinegar is my current favorite in the kitchen.
As an all-rounder, you can use it for marinating and cooking.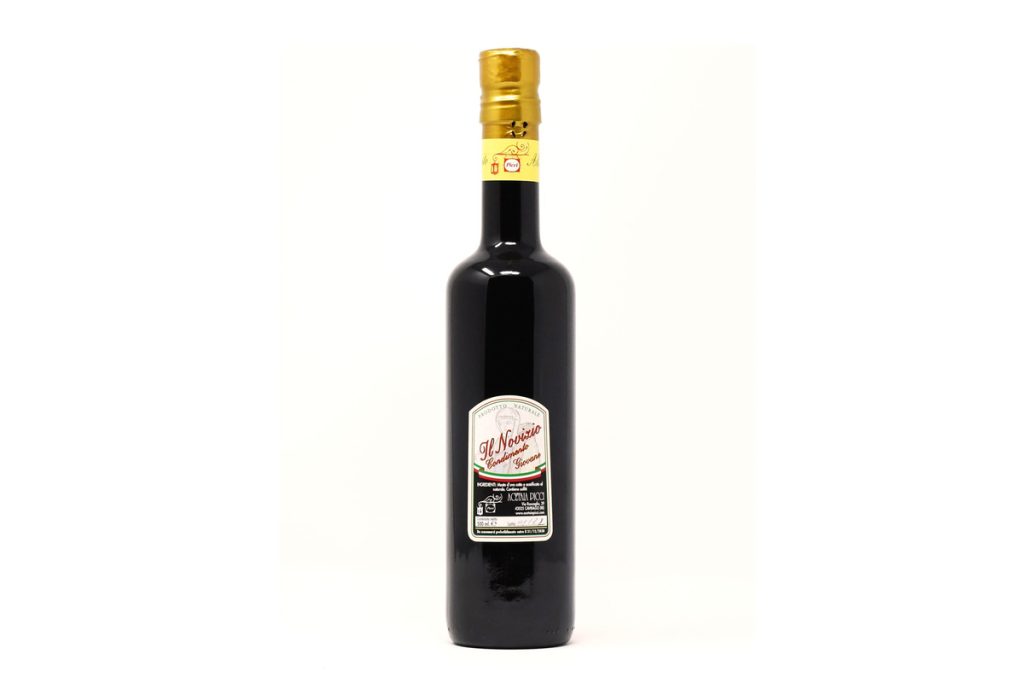 Tomato Flatterer:
The test winner in ÖKO-TEST magazine 2021 simply belongs in the kitchen cabinet.
It is made from 5 grape varieties, matures in wooden barrels is handcrafted and bottled at the place of origin.
A perfect start up balsamic vinegar, it is often the entry point into the upscale balsamic world.
It goes with (almost) everything and especially with tomatoes with mozzarella and basil.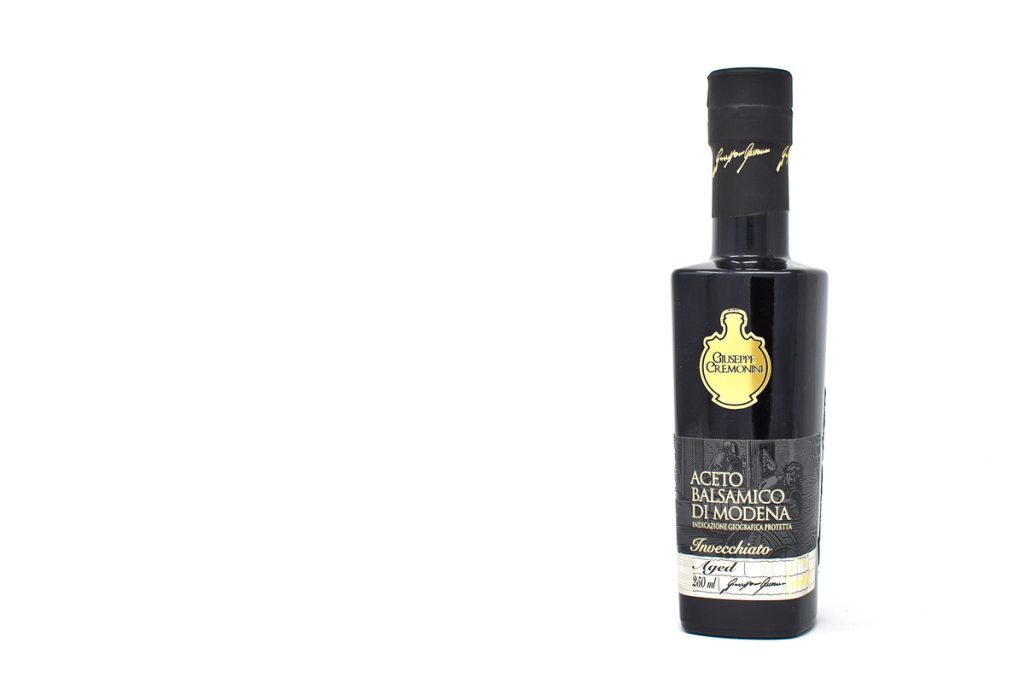 Take 5 for luck:
The Balsamic Cooking Box is a convenient ingredients box and is delivered directly to your home.
You get 5 vinegars for your kitchen in an ingredient box for a great price.
Organize a tasting with your friends or enjoy the happy makers in secret.
I have described the Balsamico Cooking Box in detail elsewhere.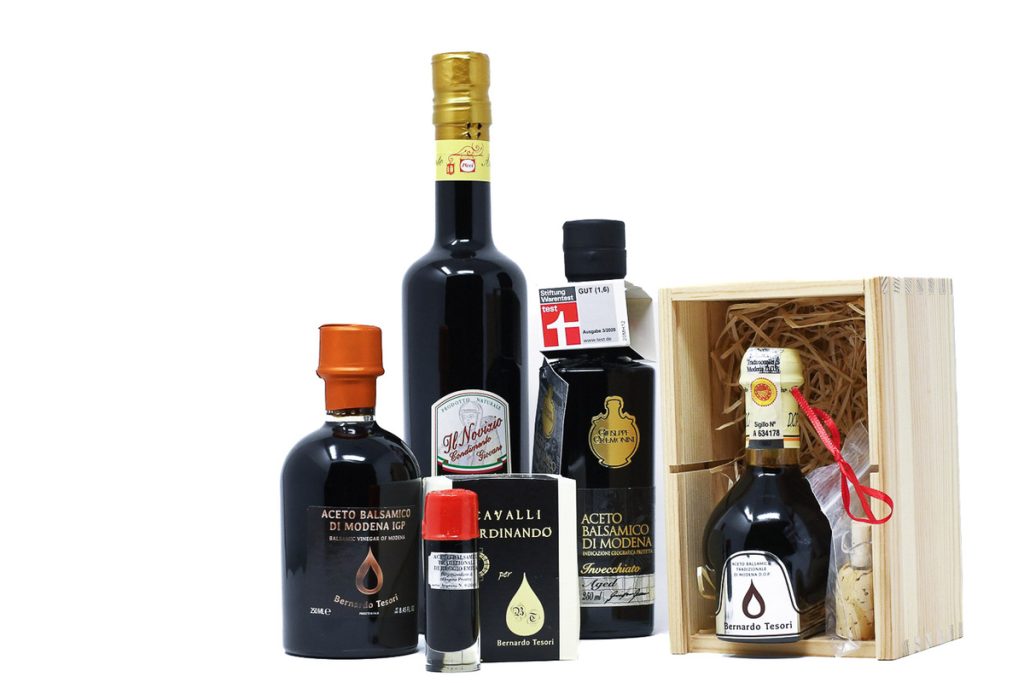 4. Definition: This ist Balsamic Vinegar
Balsamic vinegar traditional (Aceto Balsamico Tradizionale), is made from the must of fresh and cooked grapes.
After alcoholic vinegar fermentation, it matures in special wooden barrels for years and decades.
The balsamic vinegar is a fine artisan condiment.
It is called the "Black Gold of Emilia-Romagna".
PDO Traditional Balsamic Vinegar
These are balsamic vinegars that have been aged for at least 12 years and 25 or more years.
The vinegar is released for bottling only after organoleptic, olfactory and visual inspection.
You can recognize this vinegar by the high price, the DOP seal and its special glass cork spout (tappore),
–> Aceto Balsamico Tradizionale di Modena
The cap must be exclusively red or beige for the Affinato (12-year-old) and gold for the Extravecchio (25-year-old).
The bottle must have a band with serial number.
Additionally, you'll recognize it by the shape of the bottle, which was designed by Italian Ferrari designer Giorgetto Giugiaro.
It is available exclusively in the 100 ml bottle, recognizable by its bulbous drop shape.
For an Aceto Balsamico Tradizionale di Modena no other bottle may be used.
–> Aceto Balsamico Tradizionale di Reggio Emilia
Three quality levels, from 12 years of aging, the vinegar is classified after reaching the minimum score in the test.
Uwe explained to me: In Reggio Emilia, the testers from the consortium are "felt" to be even stricter in their selection and exact classification.
Aragosta –> Red, lobster colors –> 12 years of aging
Argento –> Silver –> 12-18 years of aging
Oro –> Gold –> At least 25 years of aging
It is available exclusively in the special tulip-shaped bottle.
An exception is the new bottling in 10 ml tasting samples.
These are only available in the Reggio Emilia region with a red wax seal.
Balsamic Vinegar of Modena IGP
Made in the region of origin Modena and Reggio Emilia.
In the case of IGP, 2 out of 3 production stages (production, preparation and processing or bottling) may take place outside the region of origin Modena.
The vinegar classified IGP is aged in barrels for 60 days to 3 years.
You can always recognize this vinegar by an acidity of 6%.
A high quality IGP does not "scratch" the throat despite the high acidity.
Everything else where balsamic is on it but simple vinegar is inside…
This can be any vinegar:
Often these are vinegars with a grape must content and other additives.
Although these vinegars are called balsamic, they are not classified and are often flavored vinegars.
To add some flavor, these vinegars are often "enhanced" with raspberry juice, mango, with concentrated grape juice, with sugar couleur, modified starch and flavors.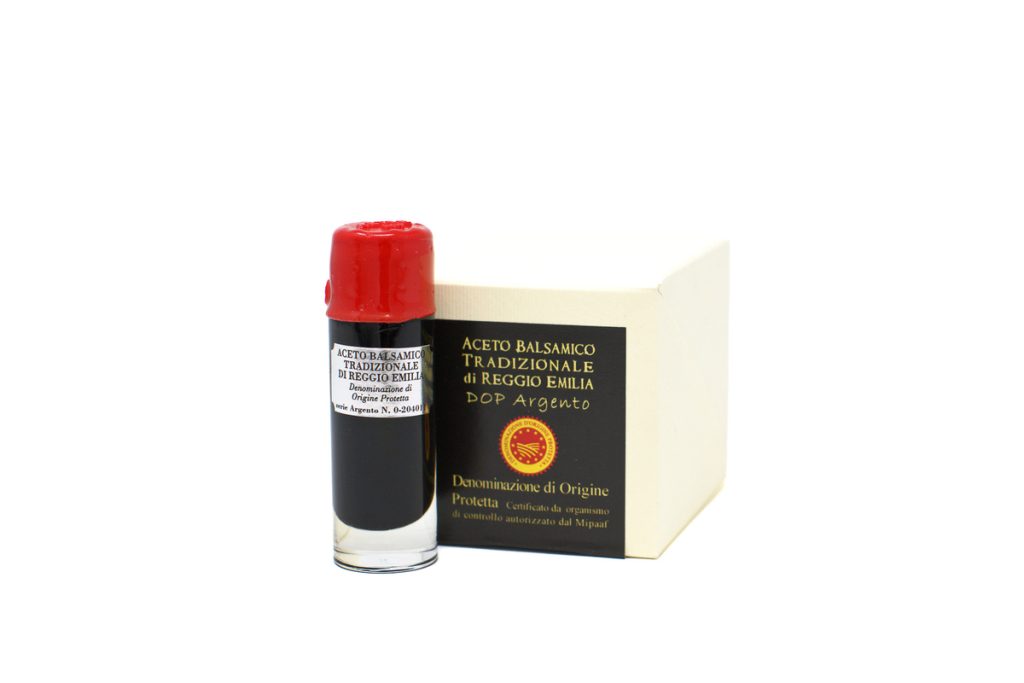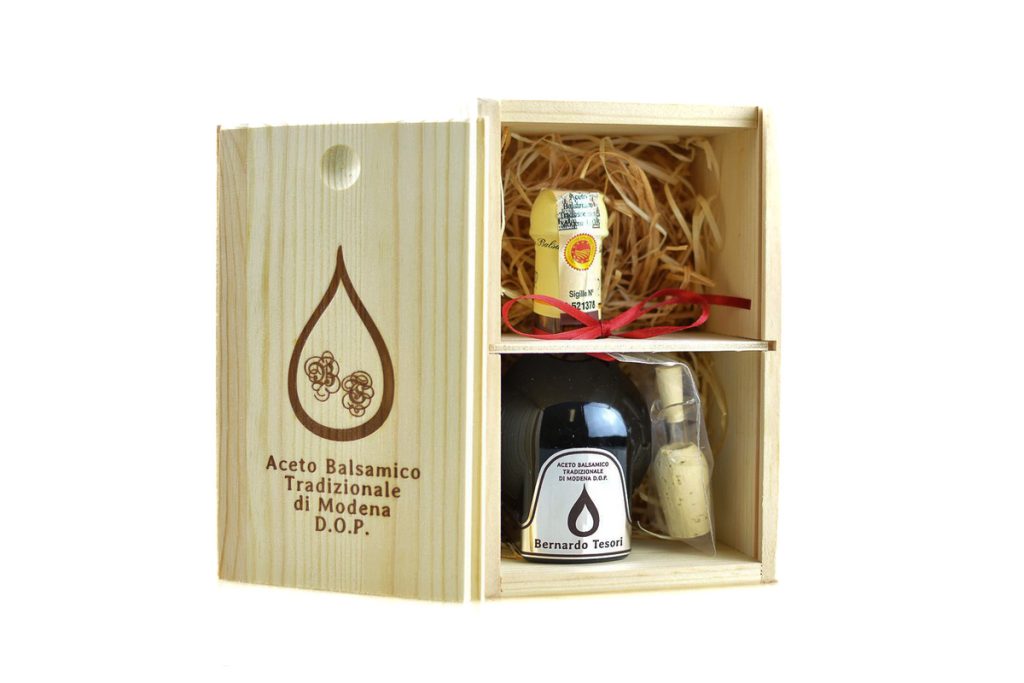 5. Traditional Balsamic Vinegar production
The production takes years and decades and can be described in words as follows:
–> For the grape harvest, the grapes are harvested and pressed.
–> The grapes are pressed to obtain about 100 liters of must, which in Italian is called "Mosto".
–> In the so-called "paiolo" (cauldron) the must is cooked for 10-16 hours at 90-95°C on the open fire.
–> The must is reduced to about 50% of the quantity, through the heat the boiled down must caramelizes and develops its first, special taste.
–> The cooked must is then allowed to cool for a longer period of time, undergoes the first alcoholic fermentation and is then placed in the first barrel.
–> During the first year, the grape must undergoes both alcoholic and acetic fermentation, thus it is called double fermentation.
–> The first station for the young grape must is the mother barrel.
–> The "badessa" is the first, of 5-8 "vaselli" (barrels), which the prospective balsamic vinegar may then refer.
–> The preliminary stage of the noble vinegar changes the wooden barrel several times, the decanting takes place in smaller and smaller barrels.
–> The certified barrels are made of different woods (chestnut, oak, juniper, mulberry, ash, cherry).
–> The wood releases aromas and flavors to the vinegar throughout the process of production.
–> All barrels together are called "batteria".
–> The barrels are often in the attic or in the vinegar factory in the traditional acetaia.
–> Each year the barrels relive the seasons, heat and cold, the passage of the season affect the natural maturation process.
–> Important for understanding: The balsamic barrels are not hermetically sealed, for exchange provides a cloth that protects the barrel contents.
–> The reduction takes place by evaporation. The barrels are filled only about half so that the vinegar can continue to mature and oxidize.
–> Once a year the contents of the barrels are transferred into smaller barrels, this process is called "travasi".
–> At least 10% of the total amount from one barrel is taken and bottled, the remaining vinegar goes into the next smaller barrel.
–> From the smallest barrel, the maturity vinegar is tested by tasting and is bottled only after at least 12 years of maturation and certification.
6. Balsamic Vinegar Production Graphic
Because graphics are so wonderfully descriptive, I have sketched the production here exactly with grapes and barrels: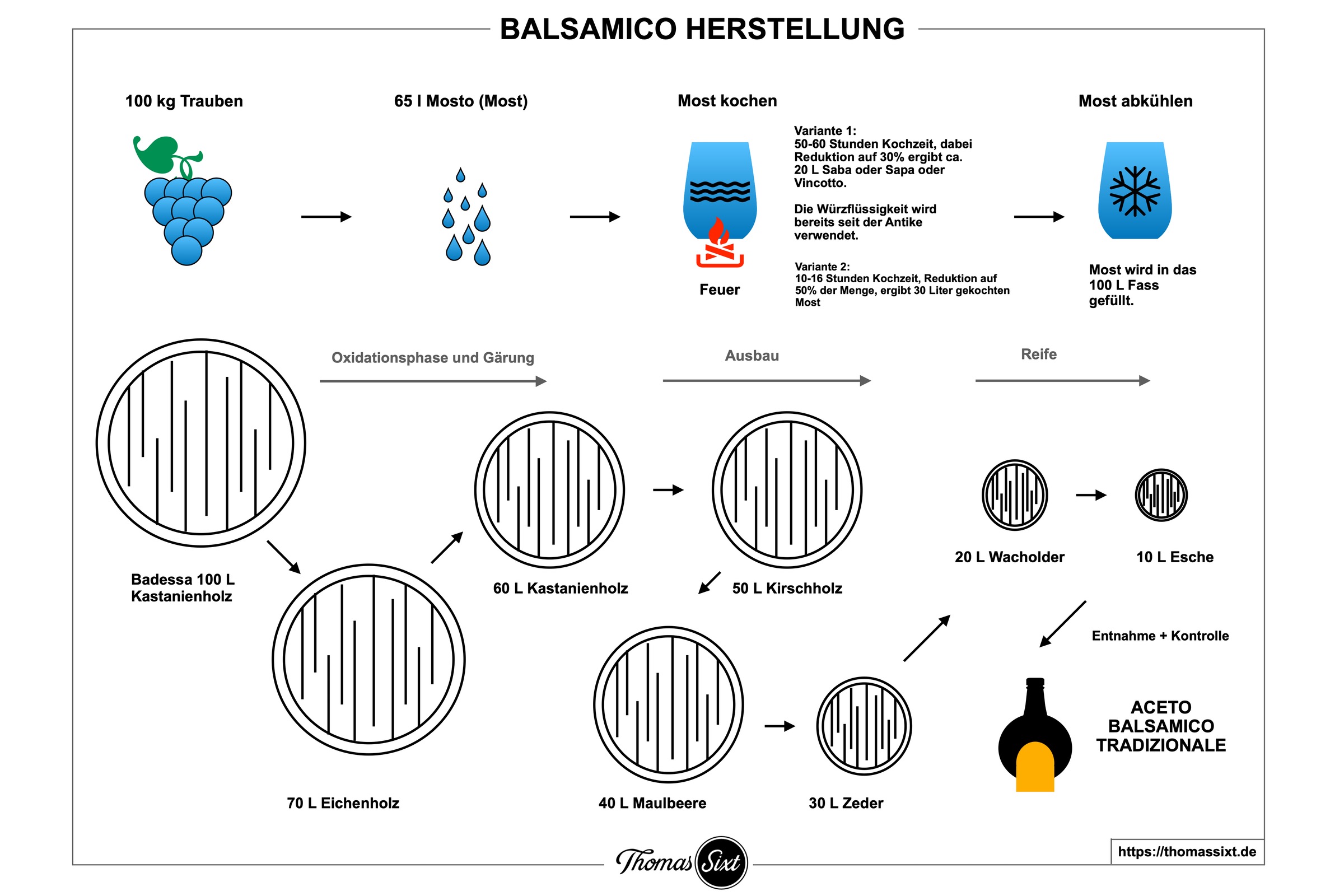 7. Balsamic Vinegar Origin And History
The production of grape must has its origins in Roman antiquity.
Boiled grape must (saba) was used as a seasoning for meat, as a sweetener for cakes or as a preservative for fruits.
In the Middle Ages, production picked up and vinegar became an indispensable ingredient in many recipes.
The first documented mention of vinegar in history dates back to 1046.
Boniface III, then the Marquis of Tuscia (Tuscany), gave the "aceto perfettissimo" (Translated: Overperfect Vinegar) to the Holy Roman Emperor, Henry III, during his passage of what are now the provinces of Modena and Reggio Emilia.
It was only a few centuries later, in 1747, that Balsamico was mentioned in the registers of the Este cellars in Rubiera (Reggio Emilia).
Even then, the vinegar was said to have a healing and soothing effect.
Seasoning Saba:

t boiled down for 50 to 60 hours was already used as a seasoning in ancient times.

The must was preserved by boiling and reducing.

The dense, honey-like syrup was called saba, sapa or vincotto.


Smarty knowledge from chef Thomas Sixt
8. Balsamic Vinegar From the Barrel
The barrels play a major role in the production of Aceto Balsamico Tradizionale.
The barrels give the vinegar the incomparable taste, allow the natural maturation.
For decades, the woods perfume the vinegar, characterize its taste and aromas.
Each Acetaia is allowed to compose its own barrels and can thus celebrate an individual and family-guarded aging process.
Balsamic in "soft" wooden barrel:
These are woods such as chestnut, wooden barrels made with wood from the mulberry tree, as well as oak barrels.
Soft wood has the lowest density, he is used for the first barrels.
These wooden barrels facilitate the exchange with oxygen, promote evaporation and acetic acid formation.
Balsamic vinegar in fruit barrel:
Experience shows that cherry wood is used for barrels in the middle maturity.
Fruitwood barrels give the vinegar a delicate aroma and soften the vinegar flavor.
Balsamic in hard wood barrel:
Barrels of ash and juniper are used for the final stage of aging.
The smallest barrels slow down the evaporation and concentration, additionally release the finest aromas to the vinegar.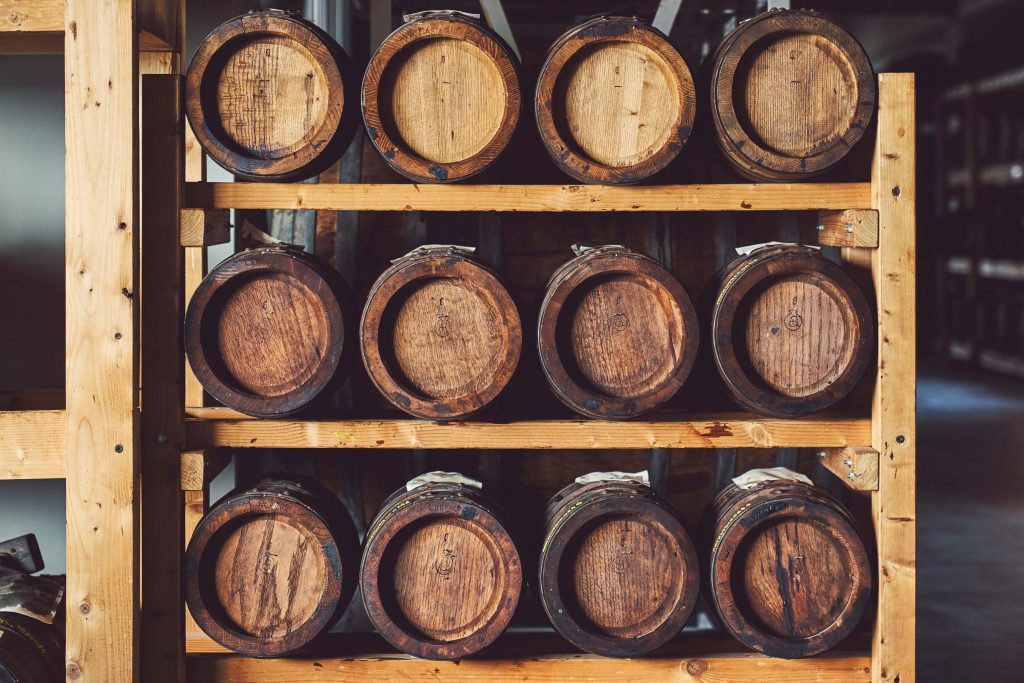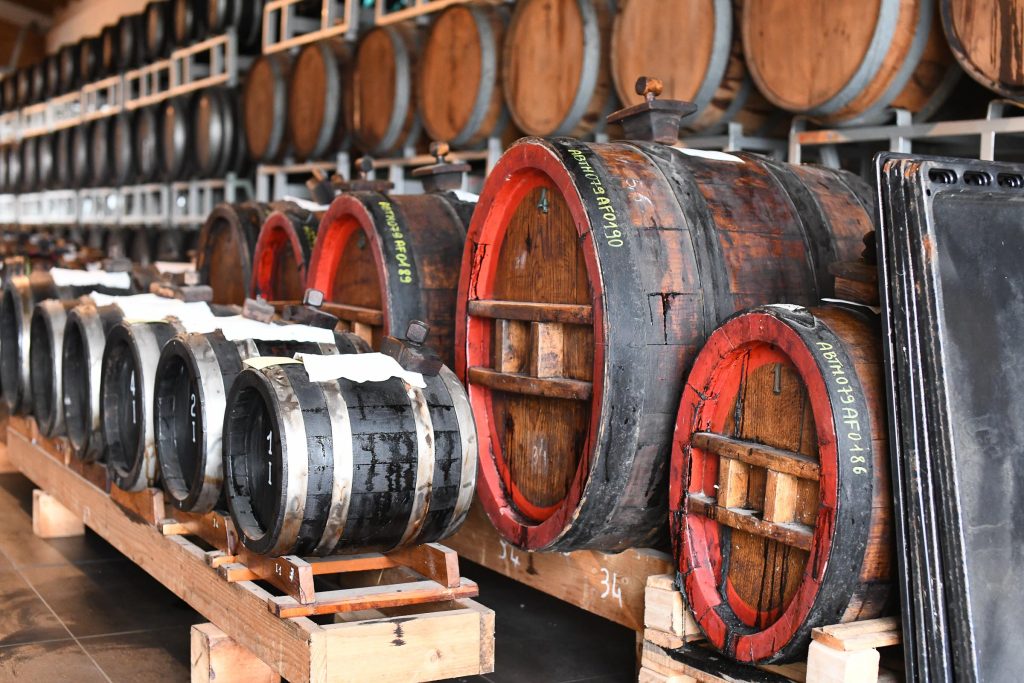 9. Balsamic Vinegar With Protected European Designation Of Origin
After the miracle came the shame and the scorn:
The fine vinegar has unfortunately been copied many times, adulterated and even the Swabians now make German balsamic.
Because we love the original – Aceto Balsamico Tradizionale DOP, here follows a clear table with all the characteristics to distinguish good from bad:
ACETO BALSAMICO TRADIZIONALE DI MODENA (DOP)
ACETO BALSAMICO TRADIZIONALE DI REGGIO EMILIA (DOP)
ACETO BALSAMICO DI MODENA (IGP)
Region & Origin
Province of Modena, Italian: Provincia di Modena in the region of Emilia-Romagna.
Province of Reggio Emilia, Italian: Provincia di Reggio Emilia in the region of Emilia-Romagna.
Province of Reggio Emilia and Province of Modena, "Protected Geographical Indication (PGI), Italian IGP (Indicazione Geografica Protetta.
Ingredients used
Reduced grape must boiled down from fresh grapes of the province of Modena.
Reduced grape must boiled down from fresh grapes of the Reggio Emilia region.
Grapes from the region or international origin are used.
Grape quantity
100 kg yields 1 L of balsamic vinegar with an aging period of 25 years.
100 kg yields 1 L of balsamic vinegar with an aging period of 25 years.
100 kg of ingredients yields 100 L of balsamic vinegar with the IGT seal.
Production
Grapes pressed, boiled and reduced, cooled in barrel, double fermentation, aging takes place in the region of origin including bottling.
Grapes pressed, boiled and reduced, cooled in barrel, double fermentation, aging takes place in the region of origin including bottling.
The "production" takes place in the region of Modena or Reggio Emilia
Maturation
Affinato
--> At least 12 years

Vecchio
--> At least 25 years
Plaque red lobster ital. Arosto
--> min. 12 years

badge silver
--> min. 18 years

Gold badge
--> min. 25 year
At least 60 days
--> Classic

At least 3 years in barrel
--> Invecchiato
Filling
Bottled by the control body after taste test and chemical analysis, official bottles are used, The sealing is done with banderole and cork.
Bottled by the control body after taste test and chemical analysis, official bottles are used, The sealing is done with banderole and cork.
Filling by producers or resellers depending on their own definition.
Seal
DOP - Abbreviation for Denominazione di origine protetta since the year 2000.
DOP - Abbreviation for Denominazione di origine protetta since the year 2000.
IGP Abbreviation for Indicazione Geografica Protetta, this exists since the year 2009.
Price
From 50 euros per 100 ml
From 50 euros per 100 ml
From 1 euro per 250 ml
Packaging unit
Only 100 ml
10 ml and 100 ml

Exception:
The pioneer "Acetaia Cavalli" also offers a certified 250 ml special bottling on request.
Smaller than 250 ml and larger
In addition to the classified vinegars, there are also exceptional products from selected Italian vinegar brewers.
The "precursors" of Aceto Balsamico Tradizionale are vinegars aged in wooden barrels, briefly.
These are characterized by few ingredients. Traditional vinegar brewers do not use additives.
A nice example is "IL NOVIZIO the balsamic vinegar dressing" in the 500 ml bottle of Acetaia Picci.
The product IL NOVIZIO is called "balsamic vinegar dressing".
The name ("Il Novizo" = the boy) already gives an indication that this is a very young product, aged only 3 years in wooden barrels.
As a result, the vinegar has a strong and fruity flavor.
Due to the natural production, this vinegar has a very mild acidity, although the total acidity is 6%.
This vinegar specialty is a pleasure even for sensitive palates.
The vinegar is not viscous and can be nimbly mixed with olive oil, salt, pepper and very little sugar to make a simple balsamic salad dressing.
IL NOVIZIO Balsamic Vinegar Dressing is available as a 500 ml bottle in the Gourmet Balsamic Cooking Box.
10. Balsamic Vinegar Test, Taste and Tasting
The real Italian DOP balsamic vinegar is usually drizzled on the back of the hand and then licked with the mouth.
Alternatively, use a porcelain spoon.
Beforehand, you can smell some coffee beans, drink an espresso, neutralize your mouth with a glass of water.
Here is the exact order for your balsamic taste test:
Order the balsamici and have them ready.
You can add fresh white bread and olive oil and have them ready.
Provide some coffee beans in a can.
Provide a glass of water.
Prepare a fresh espresso.
Start with the coffee and drink it.
Then smell the coffee beans several times through your nose.
Then drink a sip of water while rinsing your mouth a little.
Open the vinegar and smell it.
Carefully drip the vinegar on the back of your clean hand, smell it.
Pick up the vinegar from the back of the hand with your lips and tongue.
Let the vinegar work in the mouth, on the tongue, on the palate and notice the effect in the throat after swallowing.
I like to start an evening with friends in this way.
First there is only the finest vinegar, then bread and olive oil.
A beautiful evening can be extended as much as you like:
Serve some Italian antipasti, salami, prosciutto and vegetables.
Prepare a cheese plate with fruit and aged cheeses.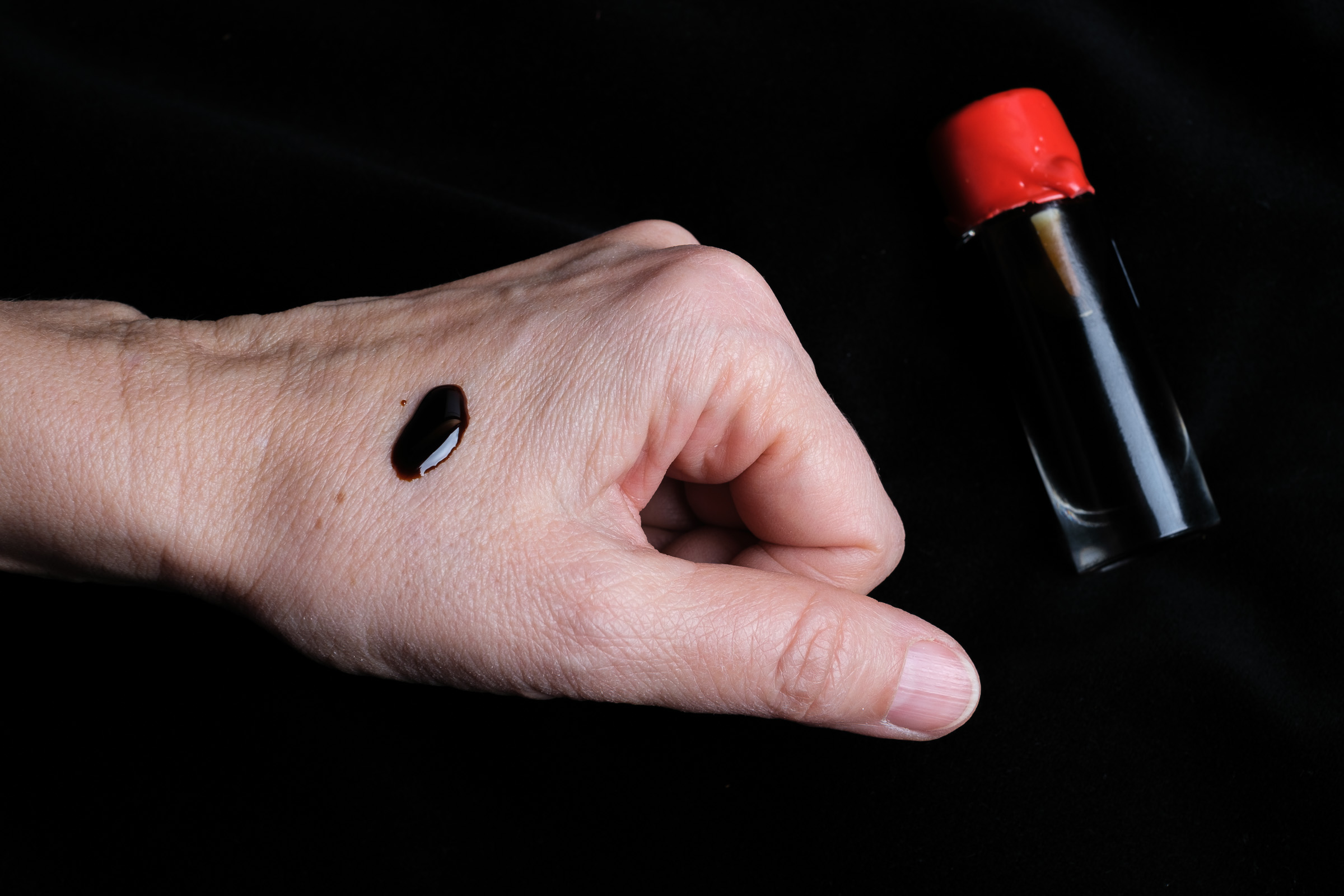 11. Balsamic Vinegar Kitchen Tips
Since the vinegar in this country is mostly used "only" for marinating salad, here are some more tips for its use in the kitchen:
Decoration and flavor finish
Classic with balsamic
Balsamic salad dressing
Served with cheese
Goes well with foie gras
Strawberries with balsamic vinegar
Vanilla ice cream with balsamic
Zampone of Modena
A special dish with Italian connection is "zampone", also "Zapone di Modena, a boiled pig's foot from the Emilia Romagna region.
The Zampone di Modena is a stuffed pig's foot, not to be confused with the pig's knuckle.
The stuffing consists of a fine, salted mixture of pork, fat and rinds, refined with pepper.
Unlike our meatloaf, the stuffing uses a ground meat mixture with poultice salt, spices and herbs.
The mixture is poured into the front spigot from the pig's foot and tied at the top.
Zampone usually comes to the table red, this is due to the use of Pöckelsalz (Nitrite Salting).
Zampone is offered differently in Italy:
Fresh and precooked.
Fresh, it is sold after drying in a hot-air oven.
In the case of pre-cooked zampone, the prepared pig's trotter is cooked in water in advance, after cooling it is packaged airtight for sale.
The fresh zampone must be cooked at a gentle boil for 2-3 hours, while for the pre-cooked one the cooking time is reduced to 30-40 minutes.
Connoisseurs and gourmets from the region drizzle little Balsamico DOP on the sliced slices.
We do not have to cook pigs feet 🙂
Refine with balsamic vinegar
The fine vinegar is also excellent with the home made roulades, German sauerbraten and Böfflamott.
It accompanies duck breast and roast goose, refines quail with pasta and pheasant simply heavenly.
Purists like to drizzle balsamic on air-dried ham, on minced meat sauce and tomato sauce.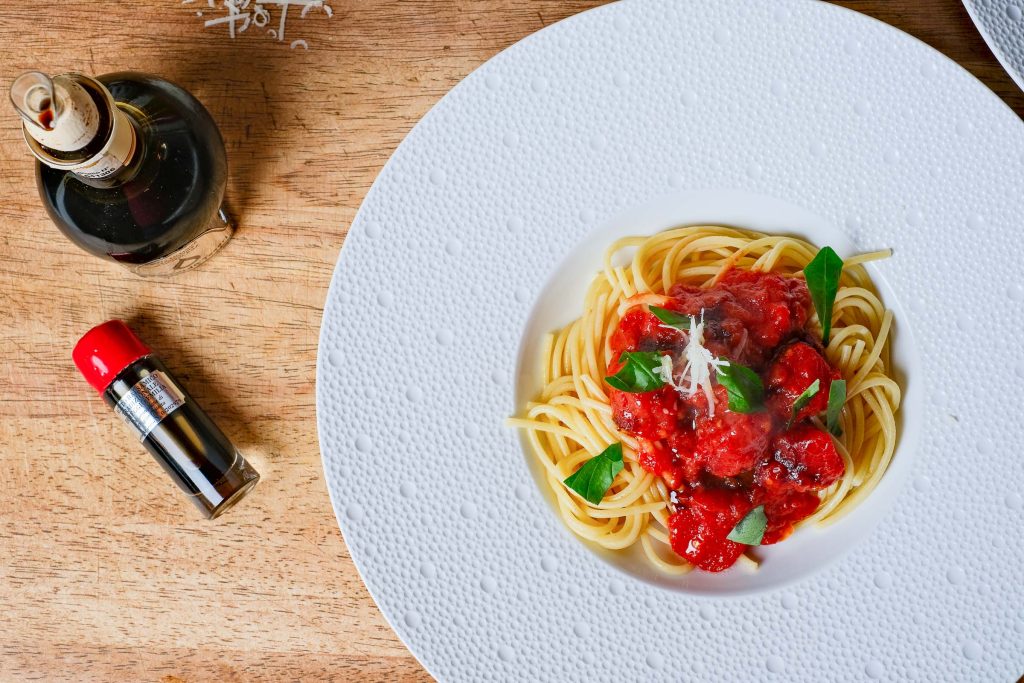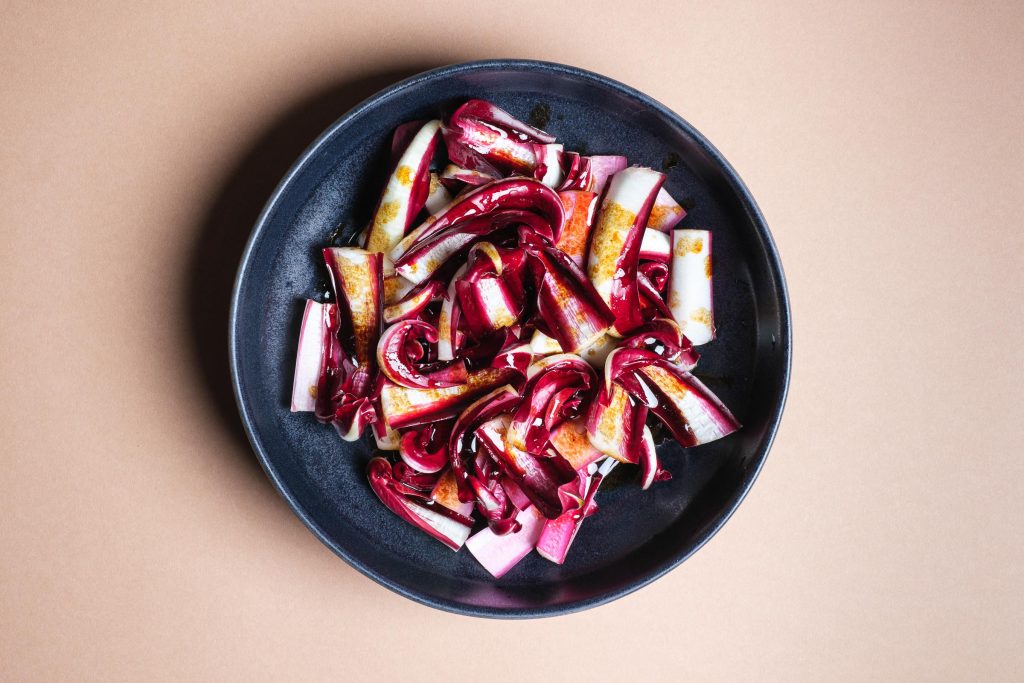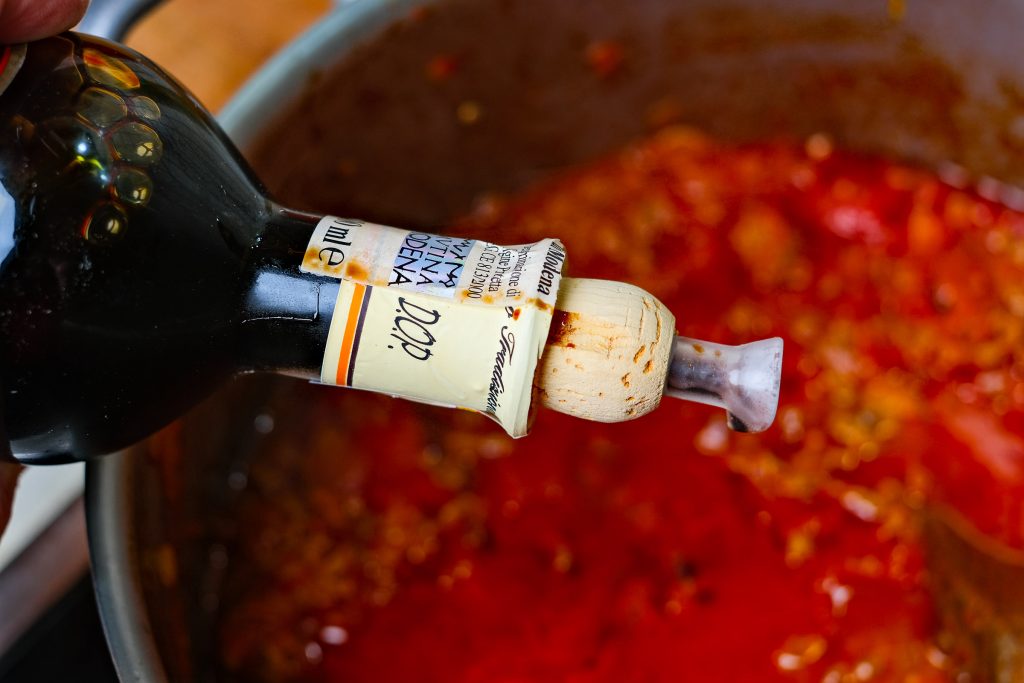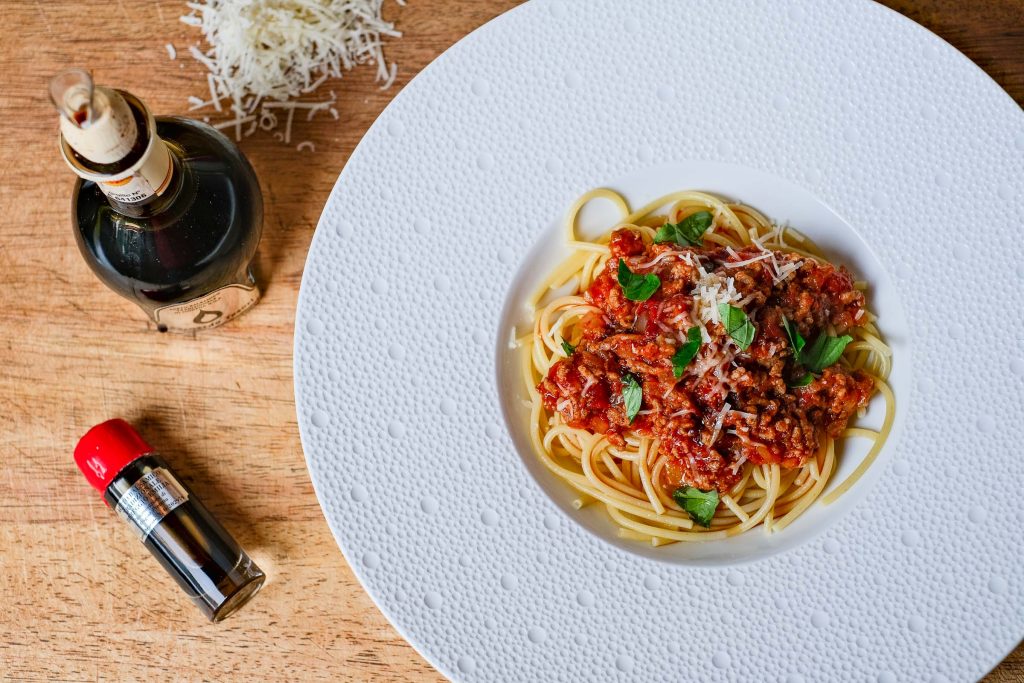 12. Frequently Asked Questions About Balsamic Vinegar
A small compilation of the most frequently asked questions can be found here.
Another article in the cooking questions section is equally interesting and deals with the Balsamico Top 12 FAQ.
What do I look for when buying balsamic vinegar?
Ask yourself first: What do I want to use the balsamic vinegar for? Strongly matured varieties with the DOP seal can be used sparingly to refine dishes. Vinegars with the IGP seal can be used daily for salads and for the preparation of salad dressings.
Can balsamico cream be compared to a DOP balsamico vinegar?
Definitely no, the balsamic vinegar with the DOP seal is a handcrafted and natural product aged in wooden barrels for decades. The commercial balsamic cream is an industrial product, quickly made with vinegar, sugar, dyes and starch.
What balsamic can you recommend for me as a chef?
For various occasions and dishes I have put together an ingredient box with 5 finest balsamic vinegar varieties. You can order the cooking box directly in the online store Balsamico.Shop.
What is white balsamic vinegar?
White balsamico does not exist! The condimento balsamico bianco is a –> seasoning balsamic white. It tastes mild and fruity. It is made from wine vinegar, grape must and other ingredients and unfortunately mistakenly associated with certified balsamic.
BALSAMICO KOCHBOX HIER BESTELLEN
13. Matching Italian recipes
BALSAMICO KOCHBOX HIER BESTELLEN
Comments, Cooking Questions and Answers
Below you can write to me directly.
Please don't forget the star rating on the recipe, 5 stars means you liked it!