Buttered Potatoes Recipe
Author:
Thomas Sixt is a chef, food photographer, cookbook author and blogger.
Here he shares recipes, answers cooking questions and helps with cooking.
My butter potatoes recipe I show you today in this post. The delicious side dish potatoes always come with me visually appealing formed and finely seasoned on the plate.
Potatoes are a popular filling side dish, they are quick to prepare and taste simply delicious. The great tuber goes well with meat, fish and as a complement to vegetarian dishes.
Let yourself be tempted to cook potatoes and enjoy the pictures and cooking tips. Good luck!
1. Recipes Butter Potatoes
Buttered potatoes
Guidance from chef Thomas Sixt.
Servings 2
Calories 861
Total Time 40 Min.
This article shows you how to prepare fine butter potatoes in a visually appealing and delicious way.
Ingredients
| | | |
| --- | --- | --- |
| 8 | pc | Potatoes |
| 1 | tsp | primal salt |
| 4 | pinches | ground black pepper |
| 2 | pinches | Cayenne pepper |
| 4 | pinches | ground nutmeg |
| 60 | g | butter |
| 1 | bunch | finely chopped parsley |
Instruction
Prepare potatoes
Wash the potatoes, dry them and place them in the kitchen on the cutting board ready.
Peel potatoes
Peel the potatoes, I use a pendulum peeler for this.
Tourniquet potatoes
Cut the peeled potatoes in half, quarter them, cut off the inner tops of the potato quarters and trim the ends.
Cook potatoes
Boil the prepared potatoes in salted water.
Check cooking degree
After 15 minutes, check the degree of cooking of the potatoes. The potatoes should still retain their shape.
Drain potatoes
Drain the cooked potatoes in a colander and drain well.
To be finalized
Put the cooked, drained potatoes in a pan and add butter.
Supplement parsley
Finely chop the parsley and add the chopped parsley to the potatoes in the pan.
Sesaon
Season the potatoes with nutmeg, salt, pepper and cayenne pepper.
Swivel potatoes
Toss the potatoes in the pan.
Arrange
Arrange the potatoes as a garnish on warm plates.
Serve quickly!
I wish you a good appetite!
You can refine the potatoes with other herbs individually:
–> thyme
–> rosemary
–> sage
–> lovage
Rosemary and sage taste better if you deep-fry the herbs in oil until crispy.
Add the fried herbs to the potatoes just before serving.
2. Calories and Nutritional Values
3. More Potato Side Dishes
Maybe you want to know some more ideas for preparing potatoes. Here you will find a nice selection: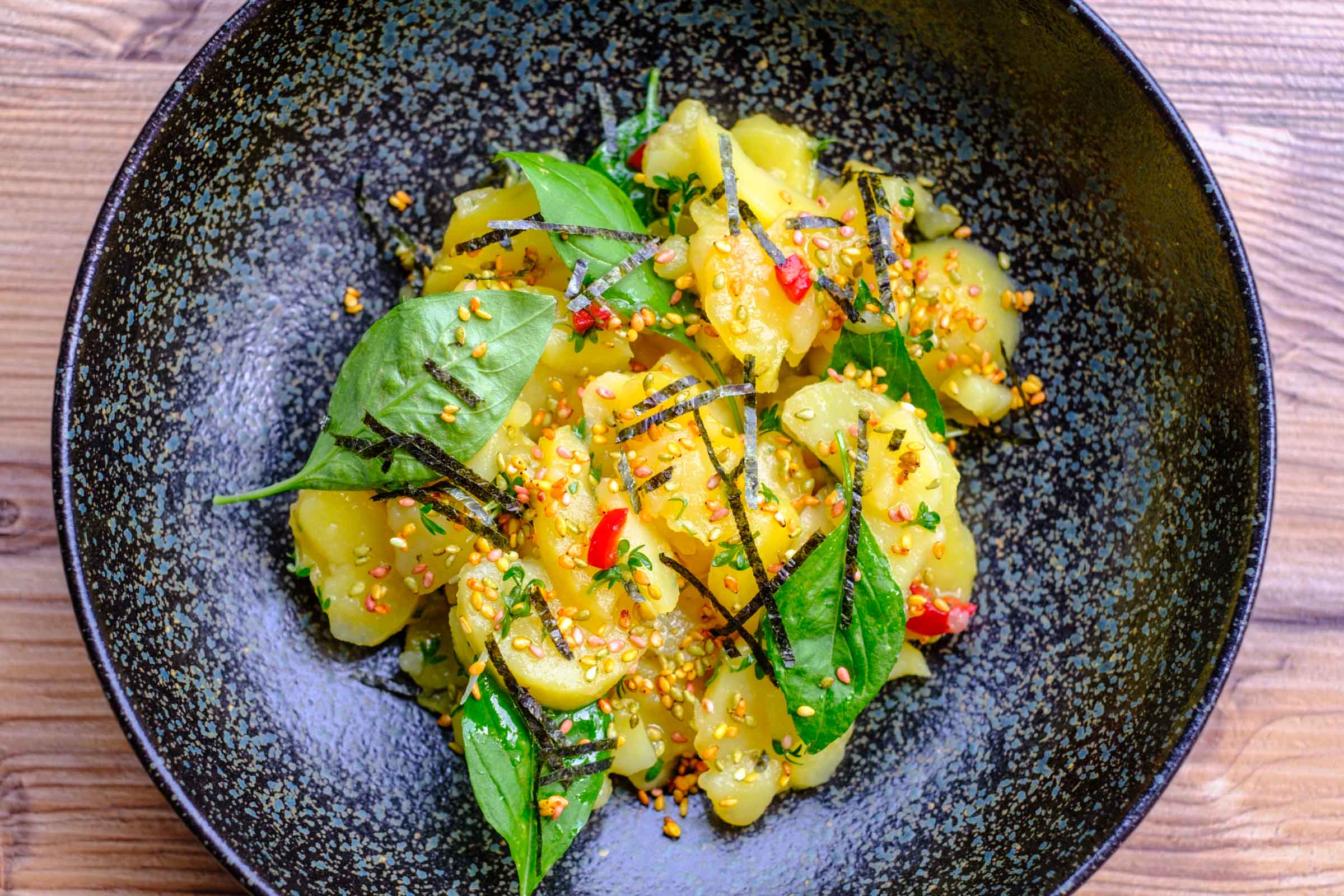 4. Tips for More Saturation Side Dishes
Comments, Cooking Questions and Answers
Below you can write to me directly.
Please don't forget the star rating on the recipe, 5 stars means you liked it!